| | | |
| --- | --- | --- |
| | | |
| | | |
| | | |

To: All Executive Branch Employees
From: Ronald J. Arigo, Chief Human Resources Officer
Date: September 5, 2018
Re: ANNOUNCEMENT: Public Service Loan Forgiveness Program (PSLF)
---
As you may know, in 2007 the U.S. Department of Education began offering a Public Service Loan Forgiveness Program for certain federal student loans to encourage people to pursue careers in the public sector and at non-profit organizations.
You may be eligible for this program if you meet the following criteria:
Have at least 10 years of full-time service at the Commonwealth, other government organizations at any level (federal, state, local, or tribal), or qualified non-profit organizations.
Hold certain federal loan(s) requiring more than 10 years to be paid. Some shorter loans can be consolidated and extended to qualify.
Have an unpaid balance after 10 years of repayment. The remaining balance is what may be eligible for the loan forgiveness.
The Employee Service Center can now process requests for employment certification. I would encourage those who may be eligible to pursue taking advantage of this valuable program by filling out the Employment Certification for Public Service Loan Forgiveness Form using the following link:https://massit.onbaseonline.com/CustomServicePortal/Home/FormPublicServiceLoanForgiveness
For additional information, visit the Public Service Loan Forgiveness Program website or call FedLoan Servicing at 855-265-4038.
Brothers and Sisters,
I would like to thank the members of Local 30 who took the time out of their busy schedules and came out in support of city of Cambridge policy #154. This policy was put forth by Mayor Marc McGovern and co-sponsored by councilors Mallon & Toomey to improve the living conditions of our eight firehouses. The Council is committed to improving our living conditions.Local 30 thanks the Cambridge City Council and we look forward to working with the City Council and City Manager addressing the long term goal of renovating all eight firehouse .

Chris Haynes
President
Cambridge Firefighters
IAFF Local 30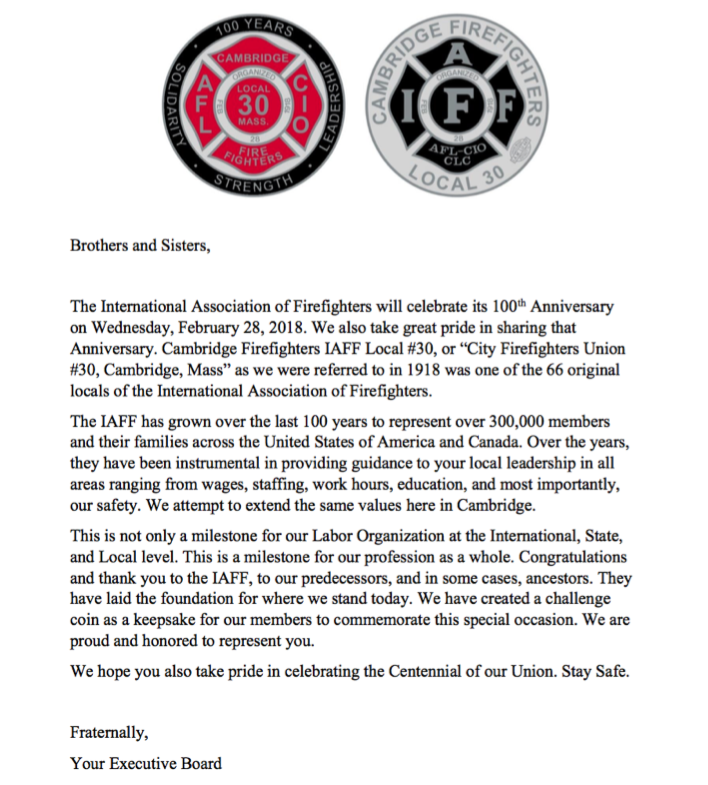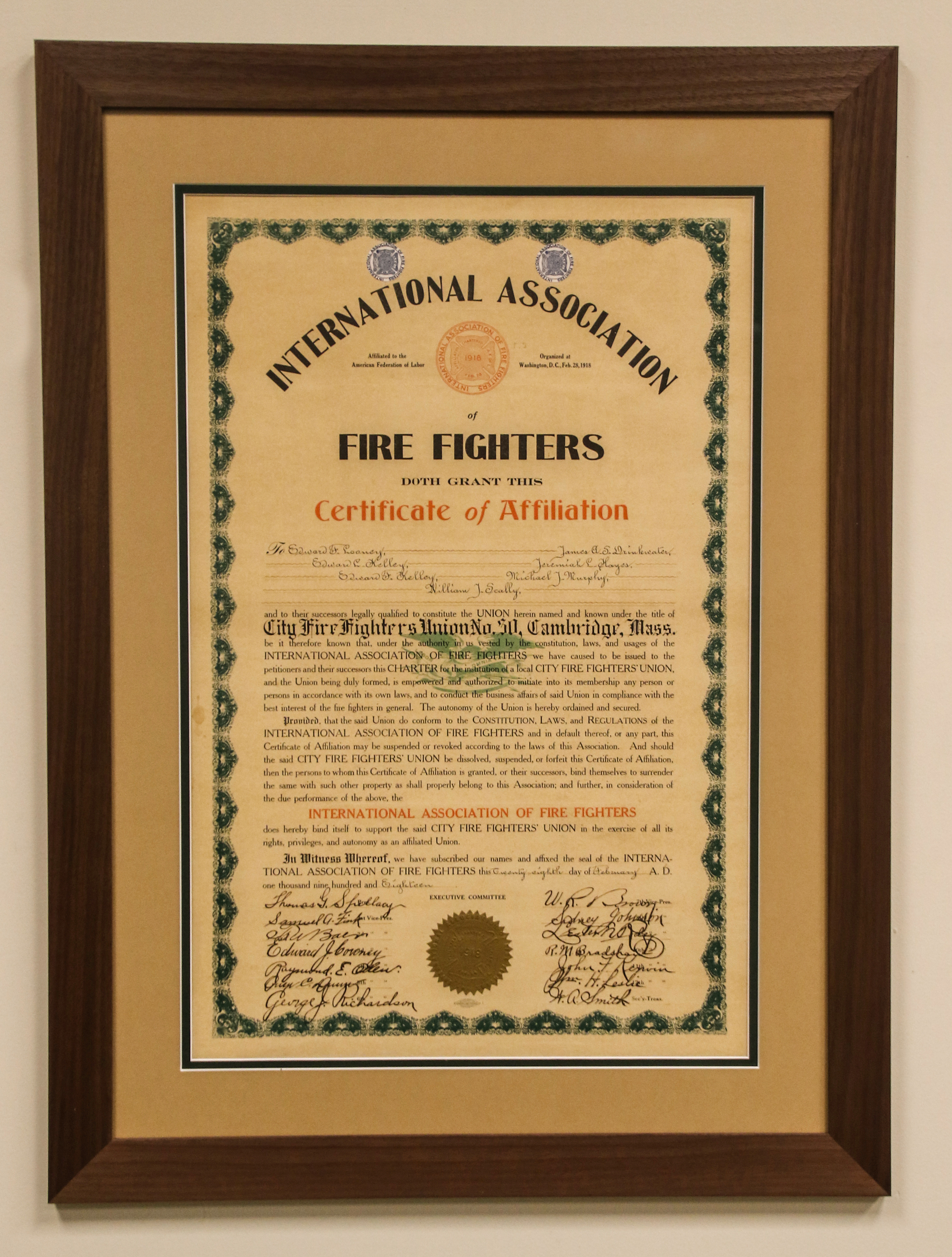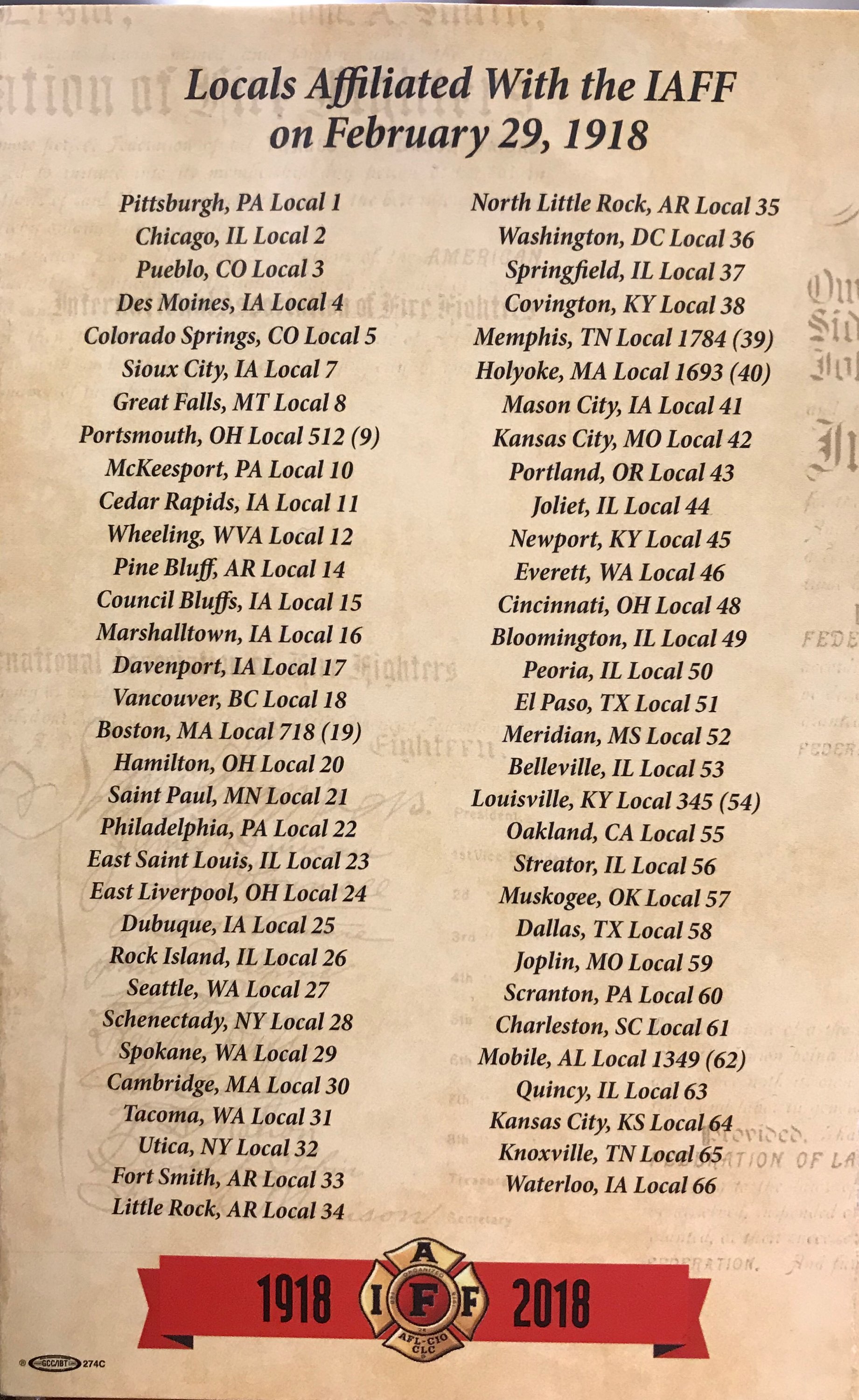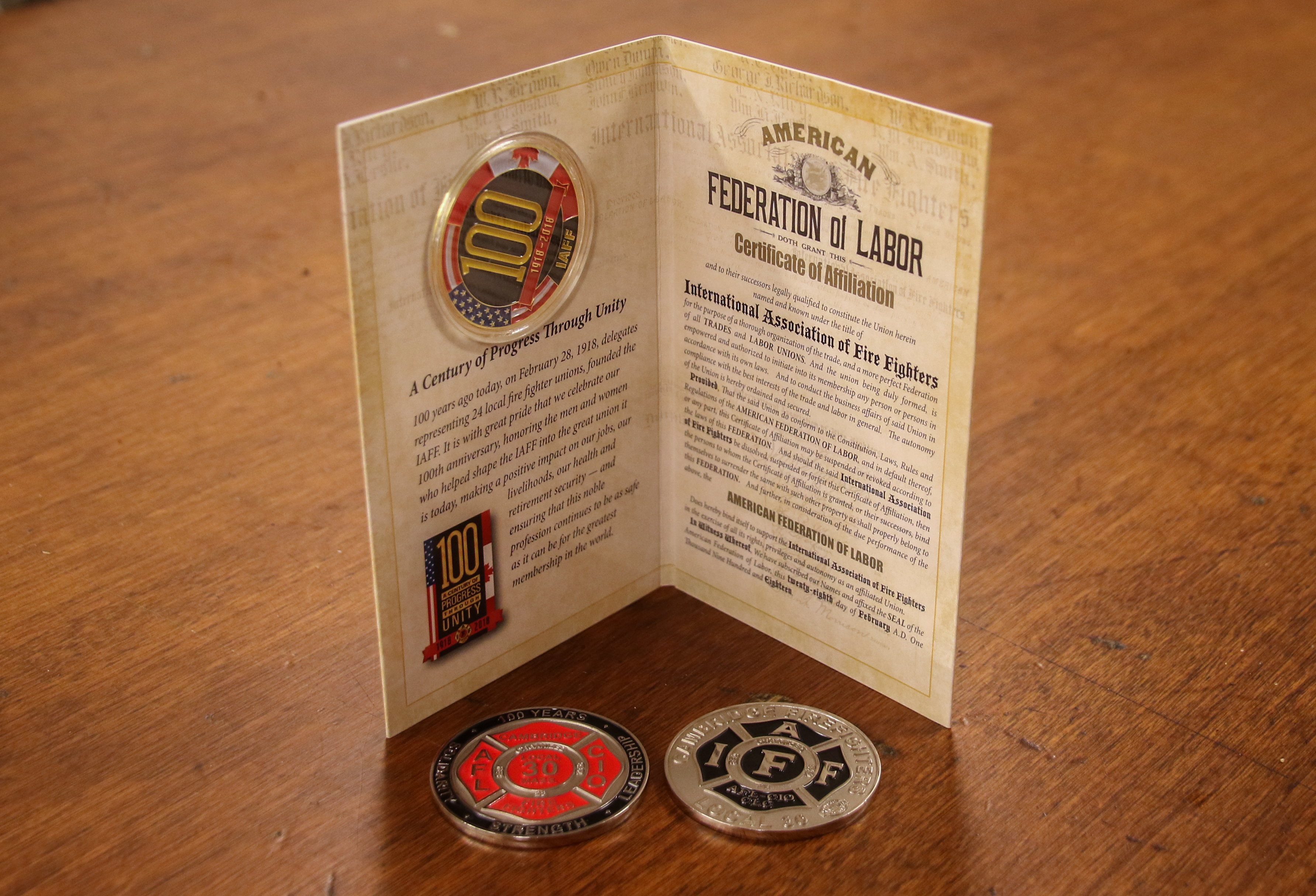 ATTENTION RETIREES
For those of you who still visit our website, the Member Log-In was updated to active members only. The reason behind this change was for easier utilization and tracking of the new "Member Resources" notification features on the website and our new mobile app. The majority of the content will continue to be available wihout a password. Some of the non-sensitive items were moved to the main menu and others will have the password protection lifted for your convenience. Use the "Contact Us" form if you're interested in receiving a new login to have access to any specific Member Resources folders.
Thank you for your understanding and we wish you all a long, happy, and healthy retirement!
Brothers and Sisters,
I'm happy to report that this year's MDA Golf Outing raised $11, 296. I would like to thank all of you that supported the event by participating, sponsored holes, and/or bought raffle tickets. We had just over 100 golfers and nice weather. We had an appearance by the MDA State Ambassador Keisha Graves. She asked me to extend her gratitude to all of you for how much that we do for the MDA each year. Keisha is a Cambridge resident and looks forward to being a part of our future events. New to the event this year, we had a "golf ball cannon challenge" sponsored by Nationwide Insurance. The participants shot a golf ball out of an air rifle at the green (about 300 yards away). The person who got the ball closest to the hole received a 1 week vacation to their choice of 3,000 affiliated resorts (airfare not included). The winner was Mike Kotowski (son of retired Lt John Kotowski) with his ball landing only 9 feet from the hole. (For the record, my 6 year old son Will, shot the ball closer but was disqualified because of his age and that he wasn't a registered golfer! haha). The golfers had some great prizes to choose from and the Grand Prize went to FF Jeff Keefe. Thank you to the Wayland Country Club for their continued hospitality over the years. Thank you to Mike Fahey and Sylvia Williams of MIT Management for their continued support and coordination with getting another great turnout by the other MIT groups. In addition to MIT Management and their affiliates, I would like to thank Local 30, the Cambridge Firefighters Federal Credit Union, and FF Steve Kelley for their generous donations. Thank you to Local 30 President Chris Haynes for volunteering at the event. Special thanks to Bill Hugh for his time and dedication selling raffle tickets over the past month and volunteering at the event.
Thank you
The Cambridge Firefighters' Relief Association will be utilizing Eastern Advertising to solicit residents and businesses of Cambridge, by telephone and by mail for fundraising.

Any questions or concerns should be directed to the following officers of the organization.

President Mark Masssiah

VP Brandon Hugh

Secretary David Croak

Treasurer Ameer Moustafa

Thank you,

Gerard E. Mahoney

Acting Chief of Department
| | | |
| --- | --- | --- |
| | Weather Report | |
| | | |
| | | |