1977 Continental 1250/500 gpm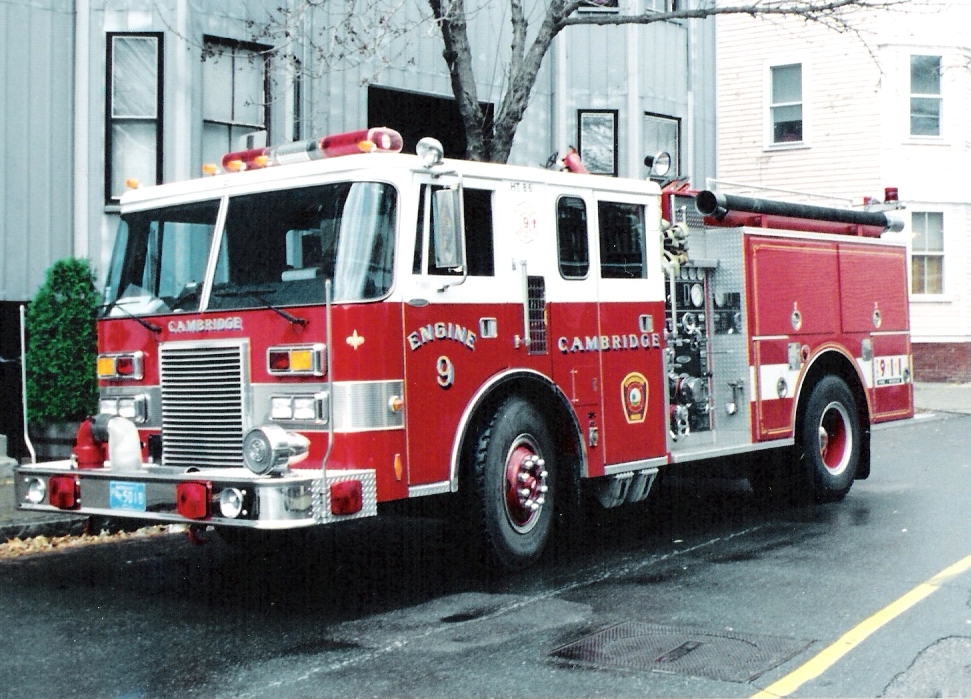 1989 Pierce Lance 1250/500 gpm
In the year 1861, a privately owned company was organized by the Boston and Maine Railroad and was located in the Prison Point Yards. This company was designated as Washington #9 and was available to the city upon request. Washington #9 was disbanded in 1866.
On June 7, 1894, Chemical Company #2 was organized in new quarters at 167 Lexington Avenue using a Babcock Chemical Engine with 2 - 60 gallon chemical tanks. In 1916, the company was assigned a new Knox combination Hose and Chemical wagon. The company now was designated as Combination #2.
On October 2, 1928, the company was assigned a new American LaFrance 1000 gpm, triple combination pump. The company was now designated as Engine Company #9.
In 1951, a 1948 Pirsch 1000 gpm pump (formerly Engine 2's) was assigned to the company. On Feb. 1, 1952, a new GMC/Robinson hose wagon was placed in service by Engine 9, making the company double unit. This also made all engine companies in the city two-piece companies.
The pump was involved in an accident on Sept. 24, 1955. Auxiliary pump Engine 11 was now in use by Engine 9. On May 15, 1956, a 1944 Pirsch 750 gpm (former Engine 6) was placed in service as the pump. On July 14, 1967 a new International/Farrar hose wagon was assigned to the company, replacing the 1952 GMC.
A new Maxim, 1250 gpm/300 gallon water tank pump was placed in service on Nov. 3, 1971. Following a succession of spare hose wagons in use by the company, Engine 9 became single unit again in September, 1984.
On May 16, 1986, Engine 9 and Engine 5 swapped pumps. Engine 9 now ran with the 1979 Hendrickson/Continental 1250 gpm/500 gallon water tank pump.
On August 11, 1989, a new 1989 Pierce Lance 1250 gpm/500 gallon water tank apparatus was placed in service. This pump was in service until the spring of 2004, when it was traded in on the newly ordered pump. Engine 9 ran with spare pump Engine 10 (the former Engine 6 pump) until the new pump was delivered and placed in service.
On August 20, 2004, the current 2004 Pierce Saber 1250 gpm/500 gallon water tank apparatus was paced in service.
- historical information for this narrative was provided by Ed Morrissey