Rescue 1 - 1932 Ford
photo from the collection of Ed Morrissey
Rescue 1 - 1943 International Fog Unit (former United States Navy)

photo from the collection of Ed Morrissey
Rescue 1 - 1949 GMC/Lacey

photo from the collection of Ed Morrissey
Rescue 1 - 1969 Mack/Gerstenslager
photo from the collection of Ed Morrissey

1989 Ford Saulsbury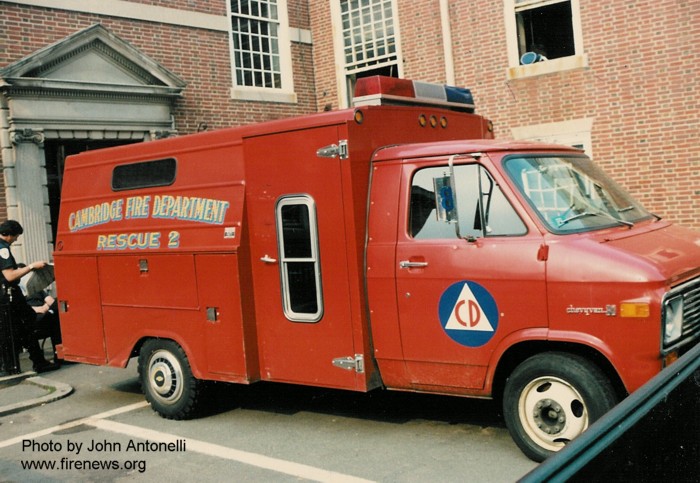 Rescue 2- 1976 Chevy
Rescue 1 was organized on 25 March 1932 and was located in the quarters of Engine 4 at 2029 Massachusetts Avenue. The Rescue was established as a result of the death of Fire Lieutenant William J. Atkinson of Engine 4. Lt. Atkinson died while attempting to rescue 2 men who had been overcome in grease-pit manhole. Lt. Atkinson and both civilian victims died in the incident. The lieutenant had been wearing an "all-service" type canister filter mask. (The all-service mask filtered contaminants in the atmosphere but did not provide a supply of air or oxygen.) The purpose of the rescue company was to provide a fire company for specialized rescue incidents and to provide a mechanism to "rescue the rescuers" when necessary.
Chief of Department Herman Gutheim, with the support of city officials, organized this new fire company in spite of the economic depression in the country at the time. Fire Captains Arthur Marshall and George Friel were assigned to train the company. Captain Friel went to New York City, riding and working with the Fire Department of New York City's Rescue 1 to learn about heavy and special rescue procedures. While riding with Rescue 1, Capt. Friel was involved in a rescue of persons from a fire. Capt. Friel received an FDNY medal for this incident. After a period of training, Rescue 1 began service in August of 1932.
In 1933, the Rescue was involved in a serious accident destroying the apparatus. The company ran with a spare wagon. On 25 February 1934, Rescue 1 relocated to the new Fire Headquarters building at 491 Broadway. This is the current home of the Rescue Company. In October of 1935, the company placed a new Seagrave rescue wagon in service. In 1947, a 1943 International high-pressure fog wagon (former U.S. Navy) was placed in service. The Rescue became a two-piece company.
In January of 1949, a new GMC/Lacey rescue apparatus was placed in service by the company. Rescue 1 began transporting victims. The company placed a new Ford rescue in service in August, 1960. Also in 1960, the fog wagon was reassigned to Engine 1.
A new Mack CF/Gerstenslager rescue was placed in service in October, 1969. In March, 1979, a Chevrolet/kurbmaster/Wolf Coach rescue was placed in service. The Cambridge Fire Department Hazardous Materials Task Force was organized under the Rescue Company in 1986. The Mack apparatus was refurbished for use as the HazMat vehicle.
In October of 1989, a new Ford/Saulsbury rescue was placed in service. On 23 May 1994, a new Ford/3-D HazMat rescue apparatus was placed in service. In 1995, the Department disposed of the 1989 Ford/Saulsbury rig. Engine 4's wagon was reconfigured and was operated as the HazMat vehicle temporarily.
On 16 May 1996, Rescue 1 placed in service a new Emergency One/Freightliner apparatus.
On 29 September 2003, a new Spartan/Road Rescue apparatus was placed in service as Rescue 1. The former Rescue 1, the E-One/Freightliner will be rebuilt and run as Rescue 3, a spare and special-event rescue.
Effective 1 May 2005, paramedic service was initiated in the City of Cambridge Fire Department. Rescue Company #1, as well as Squads #2 and #4 are Paramedic Response Units.
Historical information was provided by Ed Morrissey